Systema Orthodontic Toothbrush
ORTHODONTIC "V" Shaped and Spiral Bristles for Braces
4pcs for $19.95 with FREE POSTAGE

Clean braces…clean teeth
V-shaped Bristles
Super tapered and spiral bristles cut into a V-shape to effectively remove plaque and food particles from bracket of braces. Designed to effectively clean around braces yet gentle on the gums.
Inner Bristles
Helps remove plaque and food from braces and teeth.
Systema's patented super tapered bristles are 1/10th the thickness of normal bristles. It can penetrate into deep spaces between the teeth and gums and clean effectively cleaning along the gum line.

Outer Bristles
Innovative spiral bristles have superior plaque removal ability. Super tapered bristles help penetrate deeper on gum line.
Colorful handle
Made from Polypropylene and Elastomer
High Grade PBT bristles are more durable than ordinary nylon bristles
Made In Thailand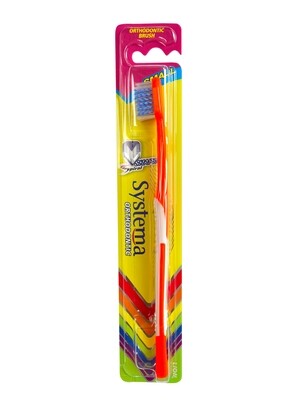 SYSTEMA Orthodontic Toothbrush For Braces V Shaped Bristles 4 pcs for $ 19.95
SYSTEMA Orthodontic Toothbrush For Braces V Shaped Bristles 4 pcs for $ 19.95
V shaped bristles designed to clean braces