SYSTEMA Super Compact Adult Toothbrush
4 Pieces for $19.95 includes FREE POSTAGE
Systema Super Compact Toothbrush also known as Dentor Systema A31 in Japan

Medium Bristles and
Super Compact Brush Head – smallest brush head in the Systema manual range
Made in Japan
Features :
The difference is in the bristles.

Patented 0.02mm Super-Tapered Soft and Slim Bristles.
Tip of the bristles is 1/10th the thickness of normal bristles.
The Soft and Slim Bristles can penetrate deep into spaces between the teeth and gums and provide effective cleaning along the gum line. Cleans effectively yet gently without hurting the gums.

Made of High Grade PBT Bristles are more durable than ordinary nylon bristles.

Systema LION is Japan's No. 1 Toothbrush Brand*

*INTAGE SRI+, Systema is No.1 Brand in Toothbrush Category, Value Sales CY 2020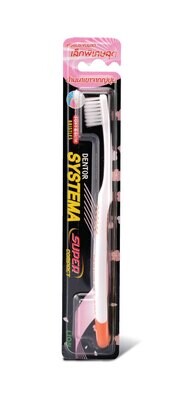 SYSTEMA Super Compact Toothbrush 4 pcs for $19.95
SYSTEMA Super Compact Toothbrush 4 pcs for $19.95
Made in Japan Model No. A31